All 7 Week Days -- 03:00 PM - 09:00 PM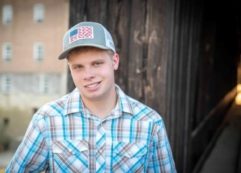 Hometown: Jackson, MO
Nickname: None
Favorite Movies: Pure Country, Urban Cowboy
Favorite TV Shows: Impractical Jokers, Hee Haw, Family Guy, South Park
Favorite Actor: Adam Sandler
Favorite Foods: Pizza & BBQ
Favorite Drink: Mountain Dew
Favorite Sports Team: Clemson Football
My Name If I Was Famous: I'd Keep My Name.
I Got Into Radio Because: I have a passion for the industry and a love for music.
What Did I Do Before I Got Into Radio: Radio is my first job.
If I Wasn't Doing Radio I'd Be: Looking For A Job In Radio.
What Do You Like To Do In Your Spare Time: Playing guitar, Spending time with family and friends