Monday, Tuesday, Wednesday, Thursday, Friday, Saturday -- 05:00 AM - 09:00 AM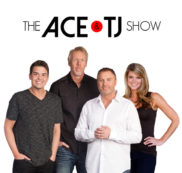 The Ace & TJ Show is based out of their Mega-Studio in Charlotte, NC and heard on stations around the country. Hosted by ACE & TJ.
One half of The ACE & TJ Show, Ace is also our resident rock star and front man for Charity Case, his band that raises money for Ace & TJ's Grin Kids.
The self-proclaimed psychiatrist, marriage counselor, and attorney of The ACE & TJ Show, TJ proves on a daily basis that he knows everything there is to know about the ladies. If you're looking to laugh, look no further than TJ.